BACK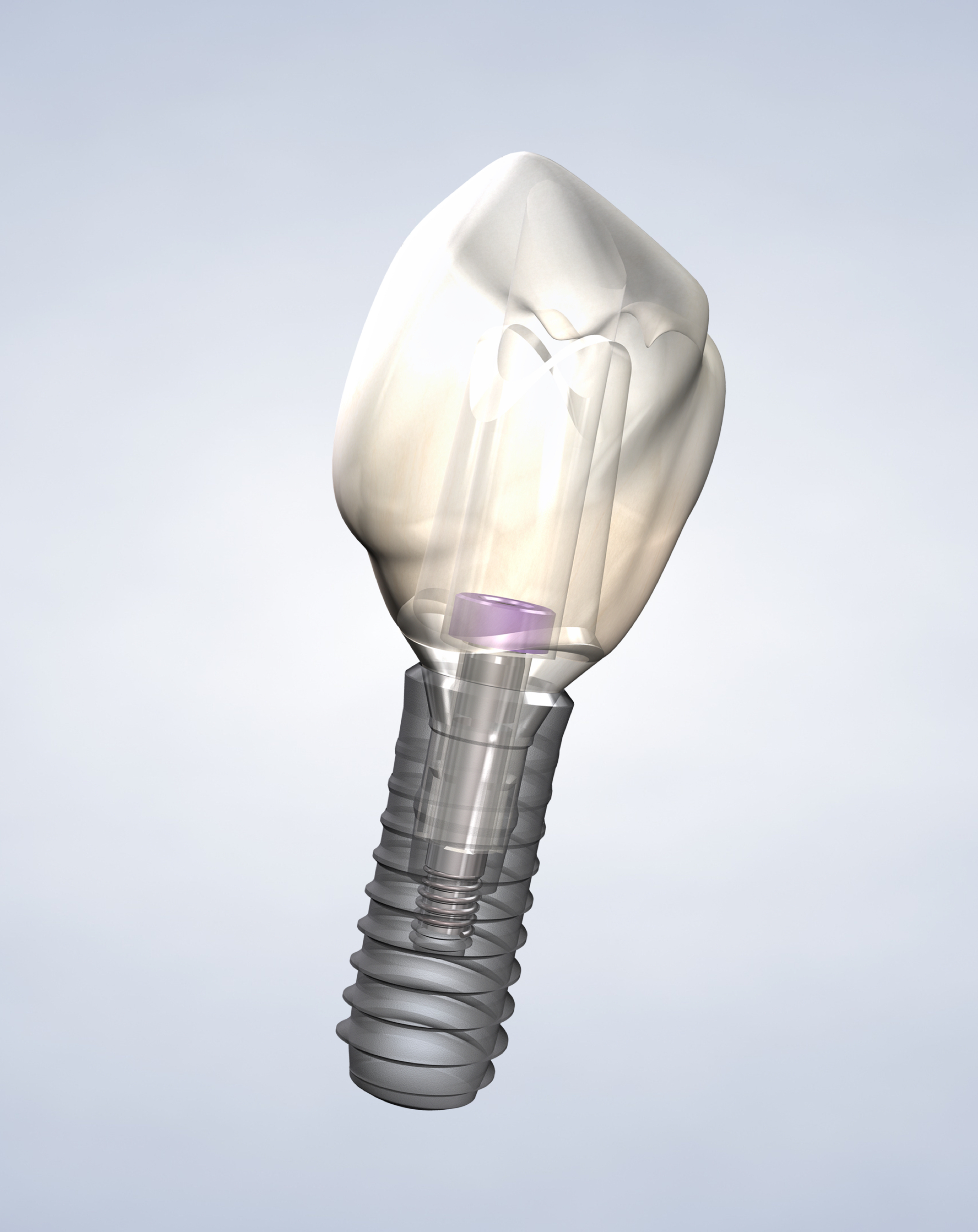 Dental Implants
Beautiful, Long-Term Tooth Replacement
Dental implants have helped thousands of patients achieve a complete and healthier smile. A dental implant replaces the entire tooth, including the crown and root, fully restoring your ability to bite, chew, speak, and smile. Your dental implant treatment is tailored to your exact needs, and you can receive single implants, multiple implants, or a brand new smile through full-arch restoration.
If you have one or more missing teeth, severely damaged or decayed teeth, or would like to improve your smile's appearance, our experts at Kentuckiana Oral Maxillofacial and Dental Implant Surgery are here to help. Oral surgeons Dr. Nathan Walters, Dr. Christopher Noonan, Dr. Geoff Mills, Dr. Jamie Warren, and Dr. Will Allen specialize in implant dentistry and improving your confidence and health through oral and maxillofacial surgery. Contact our offices in Louisville and Mt. Washington, KY, and Jeffersonville, IN, to schedule your appointment.
The Benefits of Dental Implants
Dental implants are the healthiest replacement teeth because they replace the entire tooth and root. Dental implants provide numerous benefits, including:
Prevent Bone Loss
When teeth are missing, the jaw bone deteriorates over time due to lack of stimulation. The implant post provides this stimulation to prevent bone loss, unlike removable dentures.
Long-Term Solution
The implant post integrates with the jaw bone for a secure fit, just like the roots of natural teeth. With proper care, your implant will serve as a long-term addition to your smile.
Beautiful Results
The crown of your replacement tooth is custom-made by a restorative dentist to blend in with your other teeth. Many people will not be able to tell which tooth is the implant because the results look so natural.
Protect Oral Health
When a tooth is missing, adjacent teeth can shift into the open space. Dental implants prevent dental shifting and help preserve the natural alignment of your teeth.
Types of Dental Implants
Implant-based restoration is incredibly versatile and our oral surgeons will help determine the right type of implant for your smile.
Single Tooth Replacement. Anywhere there is a missing tooth in the mouth, we can replace it with a dental implant. Some patients receive one implant, while others receive numerous implants.
Immediate Implants. If you need a tooth extracted and have enough healthy jaw bone, we can place an implant post on the same day as the extraction. This saves you time and money, and you don't have to go without a tooth.
Implant-Supported Bridge. Traditional bridges require adjacent teeth to be ground down to hold the bridge, and they can be difficult to clean around. With a dental implant supporting the bridge, you protect your existing teeth and provide stimulation to the jaw.
Full-Arch Restoration. This treatment uses as few as four implant posts to hold a fixed denture in one or both arches. Your new smile will look and feel natural and you will regain full functionality, allowing you to eat and brush normally.

Zygomatic or pterygoid implants are inserted into the facial bones instead of the jaw bone and used to support a full arch of new teeth. These implants are ideal for patients who wish to receive dental implants but have no bone remaining in the upper jaw. Similar to traditional dental implants, they restore oral function and produce natural-looking results.
More Dental Implant Options for Patients
Dr. Will Allen is a dental implant specialist who makes dental implants a possibility for patients who have previously not qualified or who are medically compromised. He also salvages existing dental implants that have failed. Patients with periodontal disease can also qualify for implants with the right management and treatment plan.
Patients who are unable to receive conventional implants may still be able to receive full-arch restoration through a variety of soft tissue and bone grafting techniques. Dr. Allen can place zygomatic implants, which are inserted into the cheekbone and are ideal for patients with significant upper jaw bone loss or weakness. There are always options to explore to help patients restore a failing tooth or teeth, and Dr. Allen explores these options with you to determine how you can achieve the smile of your dreams. 
Dental Implant Procedure
Prior to treatment, you will visit one of our offices for a consultation and meet with one of our oral surgeons. We will take 3D scans of your mouth and discuss your options for anesthesia and sedation. Most patients undergo IV sedation for this type of surgical procedure.
On the day of your implant placement, we will administer the selected form of anesthesia. Your oral surgeon will make an incision in the gum tissue and insert the dental implant post. Sutures will be placed as necessary, and if you underwent IV sedation, a responsible adult must be present in the office to take you home.
The implant post will fuse with the jaw bone over the next few months. Once fully healed, your restorative dentist will place the final crown and you will be able to enjoy your fully functioning, secure dental implant.
If you are having a tooth extracted and are receiving a same-day dental implant, we will extract the tooth and insert the implant post into the empty tooth socket at the same appointment. Our office provides instructions to guide you through recovery. If you ever have questions, please feel free to reach out to us.
How Much Do Dental Implants Cost?
We offer our services at affordable rates so that more patients can receive the care they need. The cost of dental implants varies for each patient, depending on the number of implants, the type of anesthesia, insurance details, and if any additional procedures are necessary. During the consultation, we will discuss these items with you and provide a cost estimate for your oral surgery treatment.
Other tooth replacement options like dentures or bridges are often cheaper upfront, but they do not protect your oral health like dental implants. You must replace dentures every few years, and most patients find it embarrassing to remove them during meals and cleaning. Dental implants, however, remain in your mouth at all times.
Dental Implants in Louisville, KY
Contact the experts at Kentucky Oral Maxillofacial and Dental Implant Surgery if you have one or more missing teeth or would like to replace an existing tooth with a secure, fully functioning implant. We also accept failed implant cases and work to rehabilitate your missing tooth, resulting in successful implant-based treatment. Our trusted team of oral and maxillofacial surgeons proudly offers dental implants in Louisville, Kentucky, and nearby areas.
Denture Replacement With Dental Implants
Dentures are another tooth replacement option when looking to restore missing teeth. Although they are often cheaper upfront, the cost of dentures can add up because they must be replaced every few years and professionally fitted. Patients who wear dentures often find them to be uncomfortable and seek a more long-term solution.
Dental implants are an ideal replacement for dentures because they eliminate the need for removable parts and inconvenience. You can undergo full-arch restoration to eliminate the need for full dentures, or receive implant-supported bridges to replace partial dentures. If you currently wear dentures and are looking for a more comfortable, healthier alternative, contact us today to learn about denture replacement in Louisville, KY.
Hear From Dental Implant Patients
These patients can tell you about their firsthand experience undergoing dental implant treatment at our office.
Reviews From Our Dental Implant Patients
Frequently Asked Questions: Dental Implants
Who is not suitable for dental implants?
Those who severely clench or grind their teeth may not qualify for implants, as the pressure could cause damage. Generally, if you are healthy enough to undergo general surgery, you are healthy enough for dental implants, so long as there is enough jaw bone to support them.
What happens if you don't have enough bone for dental implants?
Bone grafting techniques have made it possible for more patients to qualify for implant-based treatment. Your surgeon can place a bone graft in an area that lacks adequate jaw bone. Over time, your jaw will heal over the graft, resulting in new, healthy bone that can support an implant.
How long does the dental implant procedure take?
In general, it takes about one hour per dental implant. This can vary if you require additional extractions or bone grafts.
Do gums grow around dental implants?
Gums may grow around or between the implant as it heals. If too much or too little gum develops, you may require gum contouring, also known as gingival sculpting, to reshape the gums for an aesthetically pleasing look. Maintain good oral hygiene to prevent gum disease, which can lead to gum recession and exposure of the implant post.
How long do dental implants last?
Dental implants are designed to last for many years. After it has fused to the jaw bone, the post itself becomes a fixed addition to your smile. The crown is very durable and can last for several decades or longer with proper care. If the crown becomes damaged, your dentist can simply replace it with a new one using the same implant post.
Do dental implants look natural like my real teeth?
Every dental implant crown is custom made. Your restorative dentist designs the crown's shape, size, and color to blend in with your other teeth. Whether you are receiving a single implant or full arch, your replacement teeth will look and feel just like natural teeth.
Can I get an implant even if I've been missing a tooth for more than a year?
You can receive a dental implant as long as there is sufficient jaw bone, even if you have been missing a tooth for many years. The jaw bone weakens when a tooth is missing and will deteriorate over time. If it has become too weak to support an implant, we can insert a bone graft to build new bone where it is needed. After the bone graft heals, you will have a stronger jaw bone ready to support a dental implant.
Your Home for Clinical Excellence
Since 2004, we have provided patients along the Indiana and Kentucky border with superior oral surgery services and beautiful results. Our surgeons are oral health experts, and together with our skilled staff, we raise the bar for our patients and their experiences.