BACK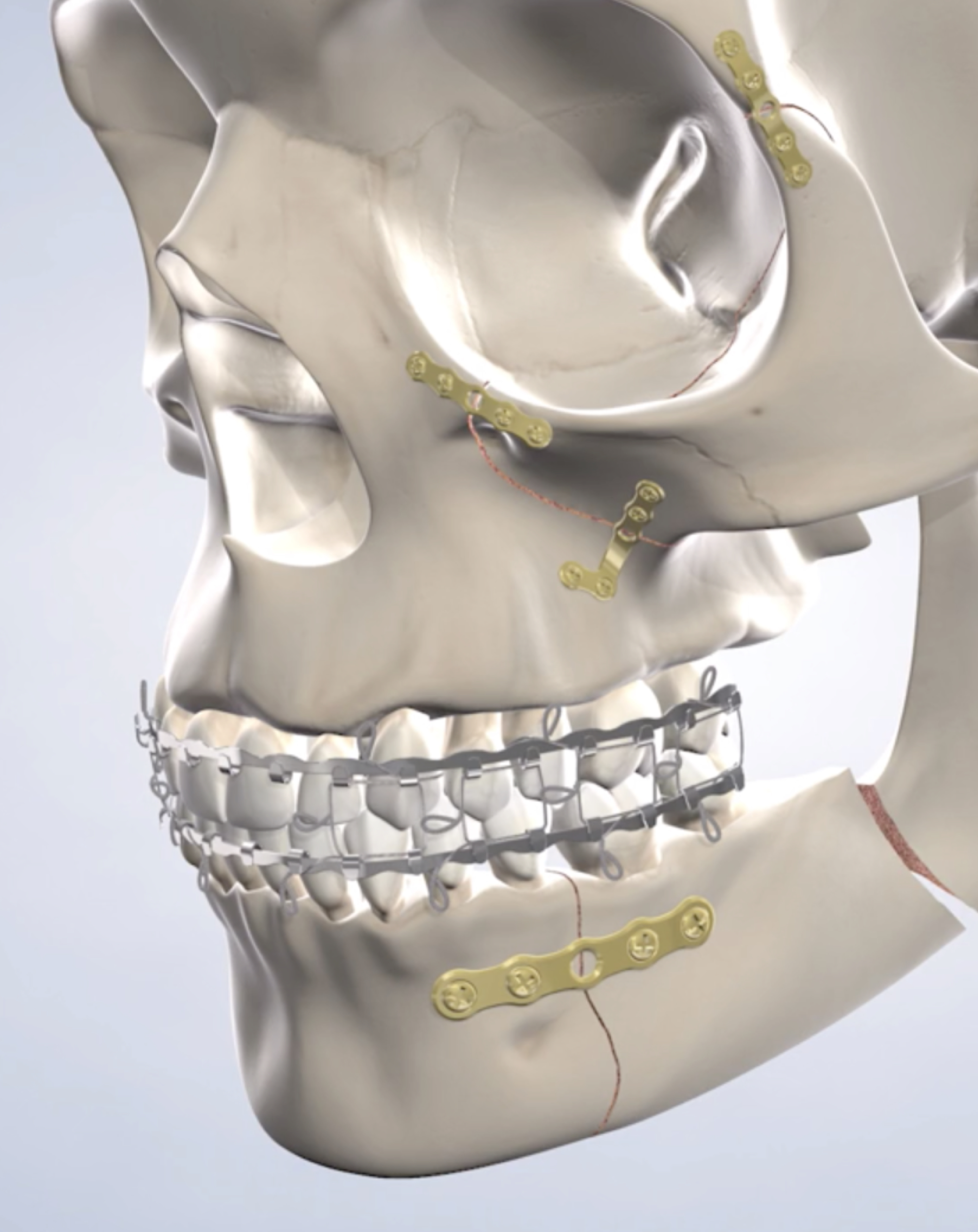 Facial Trauma
Treatment and Rehabilitation After Facial Injuries
Facial trauma refers to injuries of the head, neck, mouth, or face. These injuries require immediate attention from a skilled expert, like our oral surgeons at Kentuckiana Oral Maxillofacial and Dental Implant Surgery. Dr. Nathan Walters, Dr. Christopher Noonan, Dr. Geoff Mills, Dr. Jamie Warren, and Dr. Will Allen treat patients who have experienced facial trauma in Louisville and Mt. Washington, KY, and Jeffersonville, IN. Our surgeons are on call at local hospitals and respond to emergencies. 
Oral surgeons are trained to assess emergency situations and provide urgent care and manage long-term recovery and rehabilitation. They are the most qualified experts to care for facial trauma because they specialize in making sure the jaws come together and function properly. They also focus on the appearance of the facial regions during recovery to ensure the most aesthetically pleasing results. 
If you are experiencing a medical emergency, go to the nearest emergency room or call 911. 
Types of Facial Injuries 
Facial trauma can be a result of a sports injury, accidents in the workplace, vehicle accidents, domestic violence, or any situation in which the mouth and face could be injured. Many injuries can be prevented by wearing mouth guards and helmets while playing sports or riding a bike. There are several different types of facial injuries that an oral and maxillofacial surgeon can manage, including: 
Fractures of the upper or lower jaw 
Avulsed (knocked-out) teeth
Facial lacerations
Burns
Broken nose 
Broken or fractured cheekbones 
Soft tissue injuries 
Urgent response is necessary for facial injuries because if left untreated, they could cause facial disfigurement or the inability to properly eat, speak, and breathe. Even if the condition is not life-threatening, like a knocked-out tooth, you should be tended to by a dental professional as soon as possible.
Treatment for Facial Trauma
When responding to an emergency, an oral surgeon will arrive at the hospital and provide care in the emergency room. In most cases, general anesthesia will be administered. Once you are stable and the injury is not life-threatening, your surgeon will map out the details of your treatment. Recovering from a facial trauma incident can take several weeks or months, depending on the extent of the injury. 
3D scans help your care team view your facial structure from virtually every angle. Throughout treatment, you may require additional procedures to place sutures, bone grafts, or dental implants. We offer a variety of anesthesia and sedation options to choose from when undergoing procedures in our office to ensure you are as comfortable as possible. 
When you break an arm or leg, you get a cast. You cannot get a cast on the face. For broken facial bones, your surgeon will use a combination of plates, screws, or sutures to stabilize the bones. For cuts or lacerations, only sutures may be necessary to close the wound. Every effort is made to save your natural teeth in the event of a dental injury. If a knocked-out or broken tooth is unable to be saved, we can place a dental implant to restore your smile. 
When managing any type of facial injury, our oral surgeons focus on your comfort and health at every step. Any traumatic experience can be nerve-wracking, and our team is here to provide support and make sure you feel confident about the high level of care you are receiving. 
What To Do for a Knocked-Out Tooth
If one of your teeth has been knocked out of its socket, place it in whole milk or saliva. Do not touch the root of the tooth; only handle it via the crown. Do not clean or wipe anything off of the tooth. Call Kentuckiana Oral Maxillofacial and Dental Implant Surgery, your general dentist, or go to the nearest emergency room as soon as you can. You have a greater chance of saving the tooth when you see a specialist within 30 minutes.
Facial Trauma Treatment in Louisville, KY, Mt. Washington, KY, and Jeffersonville, IN
If you require care for facial trauma and are not experiencing a life-threatening medical emergency, contact one of our offices to speak with a member of our team. In many cases, we can walk you through the necessary steps over the phone to manage your condition until you arrive at our office. Our oral surgeons at Kentuckiana Oral Maxillofacial and Dental Implant Surgery are trained to respond to oral and maxillofacial emergencies and are here for you and your loved ones in the event of a traumatic incident.
Your Home for Clinical Excellence
Since 2004, we have provided patients along the Indiana and Kentucky border with superior oral surgery services and beautiful results. Our surgeons are oral health experts, and together with our skilled staff, we raise the bar for our patients and their experiences.