BACK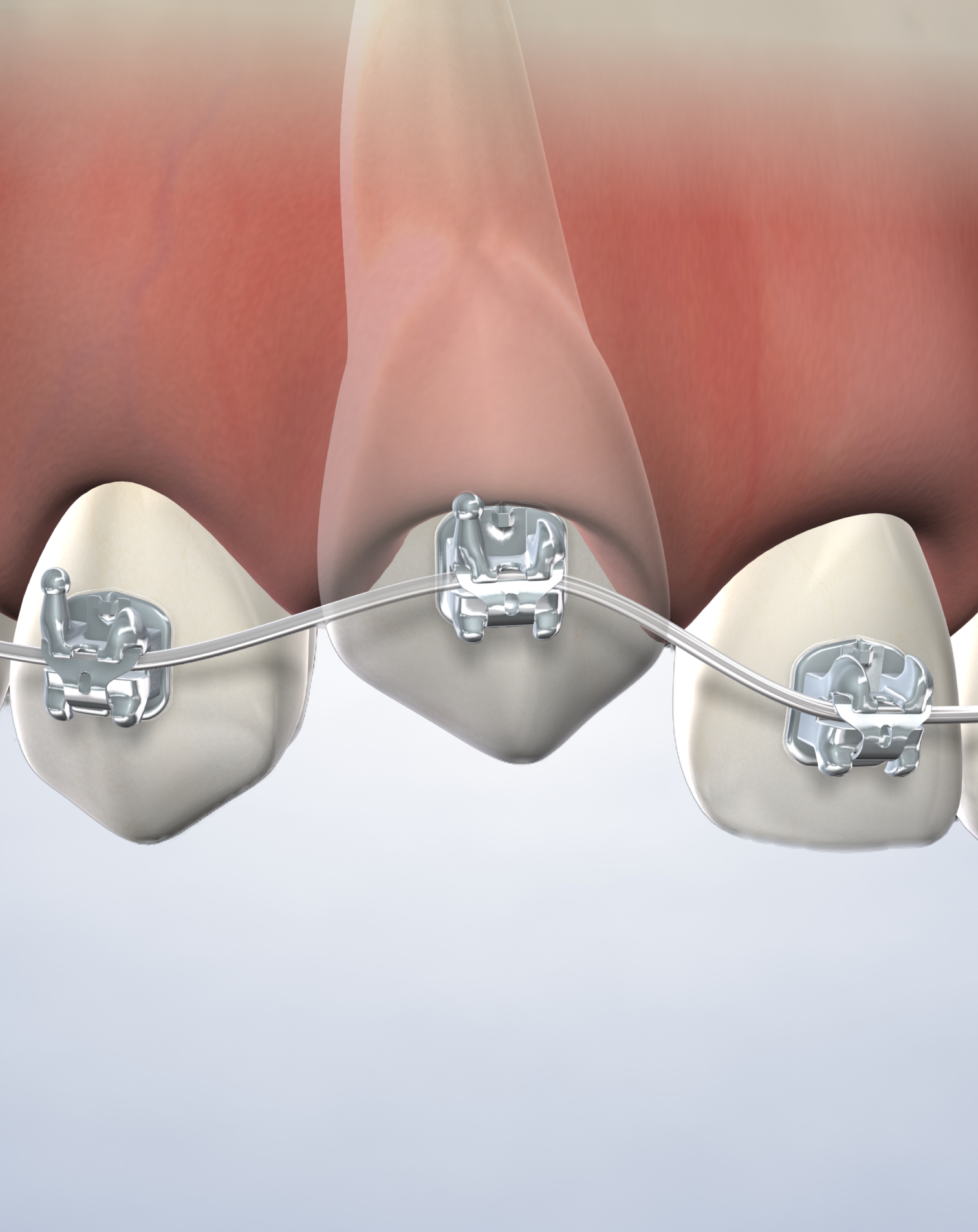 Expose and Bond
Treatment for an Impacted Canine Tooth
When a tooth cannot erupt into the dental arch and becomes trapped beneath the gum tissue, it is considered to be impacted. Any tooth can become impacted, but wisdom teeth and canine teeth are the most common. Wisdom teeth are unnecessary for oral function and are therefore simply removed. Canine teeth, however, play a vital role in your ability to bite and speak. 
Impacted canine teeth are often detected by a general dentist, who will see the trapped tooth in an X-ray. Once detected, the dentist will refer you to an oral and maxillofacial surgeon for treatment. Our team of experts, Dr. Nathan Walters, Dr. Christopher Noonan, Dr. Geoff Mills, Dr. Jamie Warren, and Dr. Will Allen, will evaluate the impacted tooth and create a unique treatment plan tailored to your exact needs. 
At Kentuckiana Oral Maxillofacial and Dental Implant Surgery, we perform expose and bond treatment for impacted canines in Louisville and Mt. Washington, KY, and Jeffersonville, IN. If you or your child have an impacted canine tooth, we encourage you to contact us for an appointment. 
Why Expose Impacted Teeth? 
Teeth need to emerge into the dental arch in order to function. Wisdom teeth, or third molars, are an extra set of teeth that develop in the late teens or early twenties. Whether these teeth are impacted or manage to erupt, they should be extracted because they are unnecessary for your oral health. 
Canine teeth are the four large fanged teeth on either end of the four front teeth. These teeth bite and tear into food and assist in proper speaking. They have the largest roots of any tooth and are responsible for keeping the front teeth in proper alignment. 
You need your canine teeth to erupt along with the other teeth in the dental arch in order to perform their necessary functions. Every effort is made to save your natural canine tooth and help it function normally. In some cases, the tooth may be unable to be saved, but we can replace it with a secure, fully functioning dental implant.
The Expose and Bond Process
Expose and bond is the type of procedure used to treat an impacted canine tooth. It is a joint effort between your oral surgeon and your orthodontist. Prior to any surgical treatment, you will meet with one of our oral surgeons for a consultation appointment. We will take 3D scans of your mouth to determine the size, shape, and position of every tooth, and create your custom treatment plan. 
As oral surgeons, we offer a variety of anesthesia and sedation options to keep you or your child comfortable during surgery. Most expose and bond surgeries are performed using local anesthesia, but we can combine this method with other types of anesthesia and sedation to maximize comfort. 
Prior to surgery, your orthodontist uses braces to align your other teeth and create enough room for the impacted canine tooth to emerge. On the day of surgery, we will administer the anesthesia and wait for it to take effect. Your oral surgeon will expose the tooth by making an incision in the gums. Your surgeon will attach a bracket and chain to the tooth, which will then be attached to your braces. 
Over time, your orthodontist will guide the canine tooth into the dental arch until it reaches the desired position. Expose and bond treatment is an effective way to manage impacted canine cases and serves as an excellent way to achieve proper oral function.
Impacted Tooth Exposure in Louisville, KY, Mt. Washington, KY, and Jeffersonville, IN
Treating an impacted canine tooth will ensure a healthy bite and promote better oral health for years to come. Our oral surgeons and staff make the oral surgery process as seamless as possible and will guide you throughout every step of the expose and bond process. We can treat impacted canine teeth for patients of all ages in each of our office locations. Contact Kentuckiana Oral Maxillofacial and Dental Implant Surgery to schedule a consultation for an impacted tooth or if you would like an oral health examination.
Your Home for Clinical Excellence
Since 2004, we have provided patients along the Indiana and Kentucky border with superior oral surgery services and beautiful results. Our surgeons are oral health experts, and together with our skilled staff, we raise the bar for our patients and their experiences.