BACK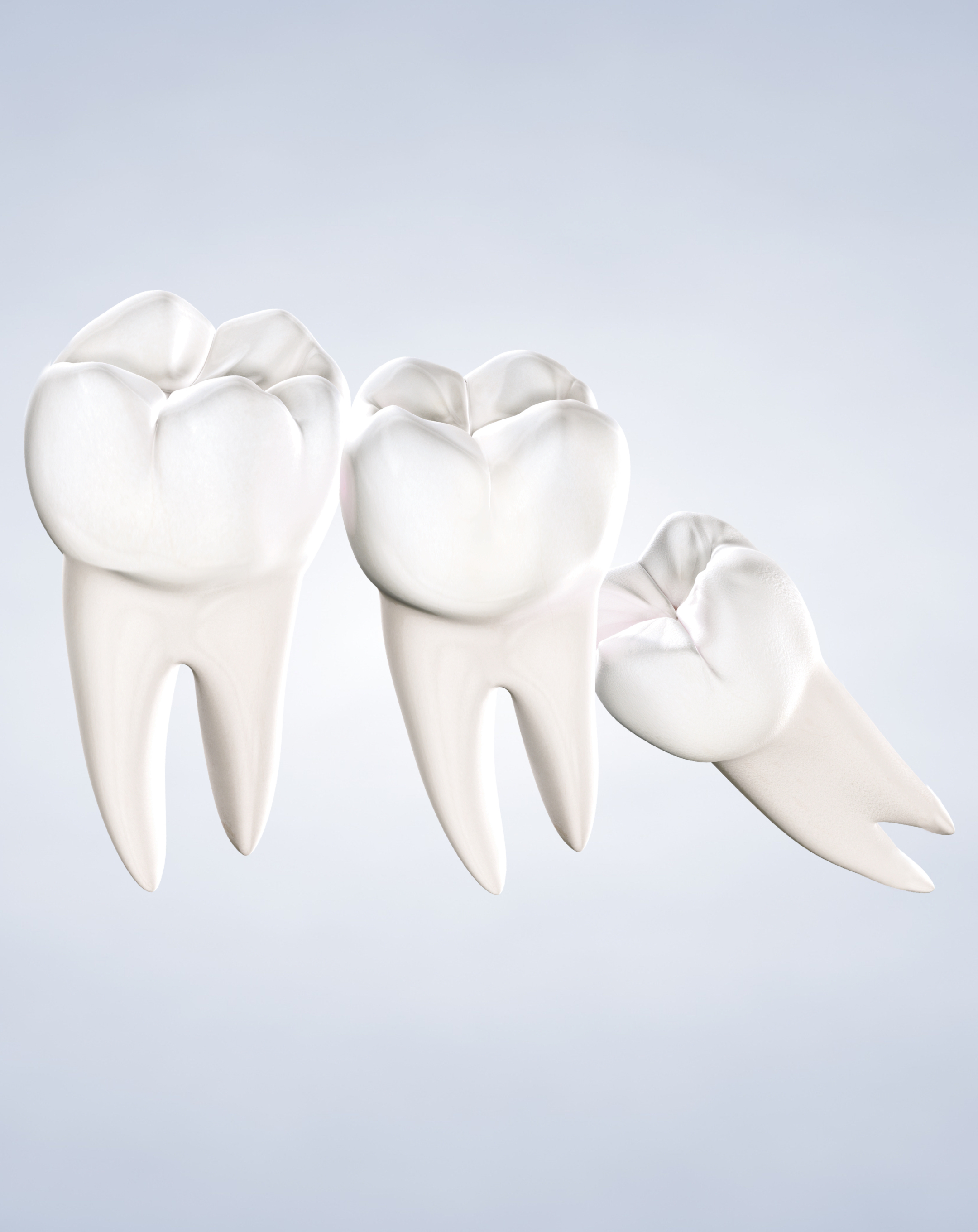 Wisdom Teeth Removal in Mt. Washington, KY
Comfortable Extraction of Third Molars
Wisdom teeth, or third molars, are the last teeth to develop and often make an appearance between the ages of 17 to 25. These teeth are unnecessary for proper oral function, and there is not enough room in the mouth for an additional set of molars. Dentists and oral surgeons recommend having wisdom teeth extracted as soon as possible to prevent a number of oral health issues.
At Kentuckiana Oral Maxillofacial and Dental Implant Surgery, our oral and maxillofacial surgeons are experts in wisdom tooth removal. We offer many anesthesia options to keep you comfortable and walk you through every step, making your oral surgery experience positive and easy. If you or your child need wisdom teeth removed in Mt. Washington, KY, contact Kentuckiana Oral Maxillofacial and Dental Implant Surgery for an appointment with Dr. Nathan Walters, Dr. Christopher Noonan, Dr. Geoff Mills, Dr. Jamie Warren, or Dr. Will Allen.
The Benefits of Wisdom Teeth Removal
Some wisdom teeth only partially erupt through the gums. Others remain trapped beneath the gum tissue and will not naturally erupt on their own. Impacted wisdom teeth must be surgically removed, as they can lead to many problems developing below the surface of the gums. There are many benefits to having your wisdom teeth removed, including:
Relieve Pain
Some patients feel pain or pressure in the back of the mouth caused by wisdom teeth. Having these molars extracted will alleviate the pain.
Early Removal Is Easier
Having third molars taken out early results in a smoother surgery and recovery because the teeth are not fully developed. You can have wisdom teeth removed at any age, but they will become more firmly embedded in the jaw bone as they develop.
Prevent Infection
Partially erupted wisdom teeth can trap food and bacteria, resulting in infections. Cysts or tumors can grow around an infected wisdom tooth and the infection could spread, leading to gum disease or tooth decay.
Protect Oral Health
They can grow at an angle towards adjacent teeth, causing them damage or pushing them out of alignment. Their roots can damage the roots of other teeth or collide with facial nerves. When you have an oral surgeon remove your wisdom teeth, you prevent these issues.
Wisdom Teeth Removal Procedure
Prior to undergoing surgery, you will meet with one of our oral surgeons at a consultation appointment. We will take 3D scans of your teeth and go over the details of your treatment plan, including your choice of anesthesia. Most patients undergo IV sedation for wisdom tooth removal.
On the day of your procedure, we will administer the anesthesia and wait for it to take effect. Your surgeon makes an incision in the gum tissue and removes any impacted wisdom teeth. Any erupted wisdom teeth are removed using forceps, similar to a general tooth extraction. After your surgeon removes the tooth, he will place sutures over the extraction sites.
When undergoing IV sedation, you must arrange for an adult to drive you home afterward. This person should remain with you for 24 hours after surgery, as you will still be under the effects of anesthesia.
Wisdom Teeth Removal Cost
The cost of everyone's wisdom teeth removal is a little different. Several factors go into the total price, including the number of wisdom teeth, anesthesia, dental insurance, and the overall complexity of the surgery. During the consultation, we discuss these items with you and provide a cost estimate upfront.
If you have questions about payment or how to afford oral surgery, a member of our team is happy to help and explain your options. Contact Kentuckiana Oral Maxillofacial and Dental Implant Surgery in Mt. Washington, KY, for an appointment.
Hear From Wisdom Teeth Removal Patients
These patients can tell you about their firsthand experience undergoing wisdom teeth removal at our office.
Reviews From Our Wisdom Teeth Removal Patients
Parker Reviews His Wisdom Teeth Removal Procedure
Watch Review
"Hi, I'm Parker, I live in Prospect, and I had my wisdom teeth taken out. When I walked into the practice, it felt great. Very comfortable vibe. Everyone was very welcoming and I just felt like it was home. The doctors here treated me very well. The surgery went great. My quality of life has changed greatly after the surgery. It has made me feel more comfortable when I was smiling. My overall experience here was fantastic. Everyone here is top-notch. To everyone I know in Lyndon, St. Matthews, and New Albany, I highly recommend Kentuckiana Oral Maxillofacial and Dental Implant Surgery."
Frequently Asked Questions: Wisdom Teeth
How many days off do you need for wisdom teeth removal?
Your recovery time will vary depending on the specifics of your surgery. Many patients resume normal activities within 1–2 days following wisdom teeth removal. You may return to your routine in a few days, but it will take a couple of weeks for your extraction sites to fully heal.
How do I know if I have a dry socket or normal pain?
Dry socket occurs when the blood clot forming inside the empty tooth socket becomes dislodged. If you can look into a mirror and see bone at the bottom of the empty tooth socket, you likely have a dry socket. This condition is also very painful, as the underlying bone and nerves become exposed.
Some pain is normal following wisdom tooth extraction, but if your pain is intense and throbbing, you may have a dry socket. Contact your surgeon immediately if you suspect a dry socket. Do not use a straw or smoke for one week after surgery and avoid rinsing your mouth too aggressively. These actions could dislodge the blood clot.
How painful is wisdom tooth removal?
With anesthesia and sedation, the surgical procedure is very comfortable. IV sedation will put you into a semi-conscious state, unable to feel pain. We may also use a local anesthetic to further numb the surgical area and provide additional comfort immediately following surgery. Any post-operative pain can be managed with medication prescribed by your surgeon or with over-the-counter medication.
Is it safe to remove all four wisdom teeth at once?
It is safe to have all wisdom teeth taken out at the same time. We recommend having all third molars extracted in one surgical visit, saving you time and money. This also prevents the need to undergo multiple surgeries, which can be taxing on your body and daily routine.
Your Home for Clinical Excellence
Since 2004, we have provided patients along the Indiana and Kentucky border with superior oral surgery services and beautiful results. Our surgeons are oral health experts, and together with our skilled staff, we raise the bar for our patients and their experiences.