BACK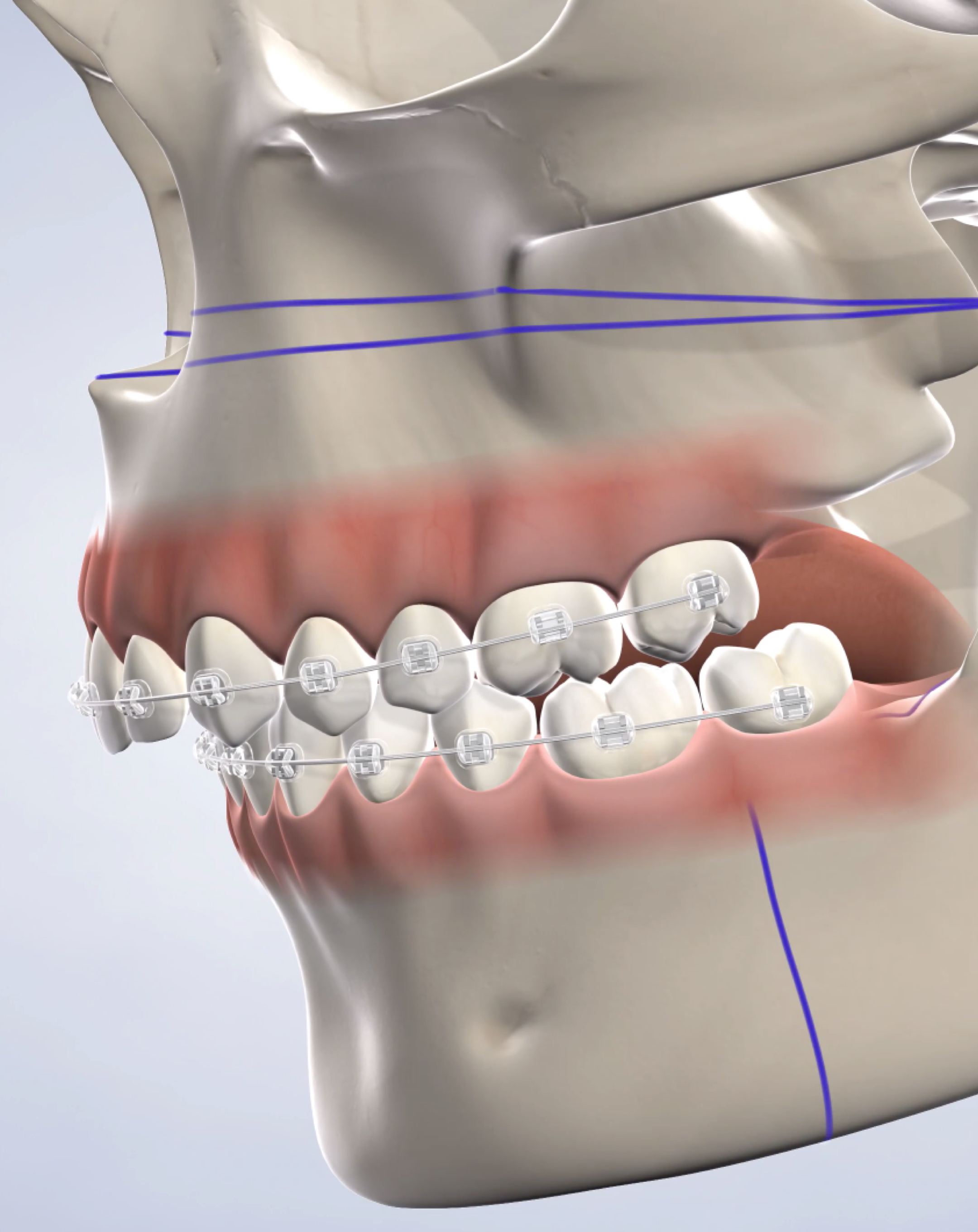 Jaw Surgery
Improve Jaw Alignment and Facial Harmony
Jaw surgery, also known as orthognathic surgery, is an oral surgery procedure that realigns the upper and lower jaws. Patients who undergo jaw surgery experience drastic results in the way they eat, breathe, and speak. Orthognathic surgery should only be performed by a skilled oral and maxillofacial surgeon, like the experts at Kentuckiana Oral Maxillofacial and Dental Implant Surgery.
We offer corrective jaw surgery to patients of all ages seeking better harmony of facial features or improved speaking and eating ability. To find out if jaw surgery is right for you, contact our specialists in Louisville or Mt. Washington, KY, or Jeffersonville, IN. Our oral surgeons, Dr. Walters, Dr. Noonan, Dr. Mills, Dr. Warren, and Dr. Allen, will evaluate your condition and determine the right treatment for you. 
What Jaw Surgery Can Treat
Jaw surgery may be necessary if orthodontics alone do not correct an issue. Throughout the jaw surgery process, your oral surgeon and orthodontist will work together to develop a treatment plan. Before your jaw surgery is performed, your orthodontist will use braces and other orthodontic techniques to help the teeth align properly. 
Orthognathic surgery may be right for you if you experience any of these issues: 
Bite problems, such as a crossbite, underbite, overbite, or if the teeth do not meet together properly when the mouth is closed
Asymmetrical facial features
Temporomandibular joint (TMJ) disorder, or pain and clicking in the jaw joint
Cleft lip or cleft palate, which may require jaw correction after treatment
Difficulty biting, chewing, or swallowing food
Speech problems
Breathing problems, such as obstructive sleep apnea
Jaw surgery is typically only considered when conventional methods have failed. If you experience these problems, nonsurgical methods such as night mouth guards, physical therapy and exercises, or orthodontics can treat them. If these methods are unsuccessful, a surgical procedure may be the right option to get the desired results and eliminate the source of jaw pain.
The Orthognathic Surgery Procedure
During your first visit, you will meet with Dr. Walters, Dr. Noonan, Dr. Mills, Dr. Warren, and Dr. Allen. We will take advanced 3D scans of your mouth and face. You will undergo general anesthesia for jaw surgery, which will render you totally unconscious, unable to feel pain. You may require surgery on the upper jaw (maxilla), lower jaw (mandible), or both.
Jaw surgery is performed in a hospital. After the anesthesia has taken effect, your oral surgeon will make small incisions in the gums or outside of the jaw as needed to access the jaw bones. The bone will be cut and reshaped, then guided into its new position. Your surgeon will use screws or plates to secure the bone, then place sutures as needed to close the incisions. 
You will remain in the hospital for several days for monitoring. Our office will provide instructions to follow when you get home, which will include diet recommendations and how to maintain good oral hygiene while you heal. Recovery takes between 6 and 12 weeks and residual swelling may last for several months. Once swelling subsides, your final results will be a stunning functional and symmetrical jaw. 
Orthognathic Surgery (Jaw Surgery) in Louisville, KY, Mt. Washington, KY, and Jeffersonville, IN
Corrective jaw surgery is a life-changing procedure that can transform your ability to eat, speak, and breathe comfortably. With 3D imaging technology, we can map out every detail of the procedure and generate what your face will look like after surgery. Our highly skilled team will provide support and guidance throughout every step of the oral surgery journey so you feel confident that you are in excellent hands. Contact Kentuckiana Oral Maxillofacial and Dental Implant Surgery today to see if orthognathic surgery is right for you.
Your Home for Clinical Excellence
Since 2004, we have provided patients along the Indiana and Kentucky border with superior oral surgery services and beautiful results. Our surgeons are oral health experts, and together with our skilled staff, we raise the bar for our patients and their experiences.